Smodin.io Review (I've tested it)
With the advent of ChatGPT, the use of AI-powered writing and editing tools has skyrocketed. I wouldn't be surprised if you've encountered a plethora of these tools in recent times, used for everything from content creation to copy editing, question answering, and even plagiarism detection.
Amidst all this, Smodin.io stands out as a one-stop shop for all your AI tool needs. But the million-dollar question is, does it live up to the hype? Is it worth your time and attention, or is it just another drop in the ocean of AI tools? Let's find out.
What Is Smodin.io?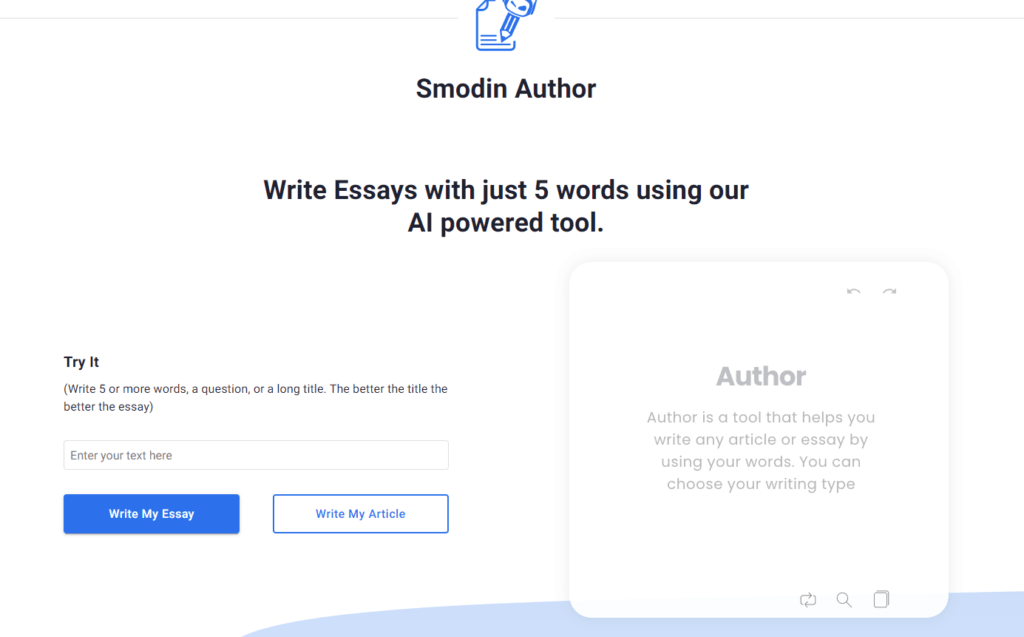 In a nutshell, Smodin.io is an AI tool suite that utilizes natural language processing technology to offer different content writing services. It's an all-in-one platform that offers a host of features to assist you with your writing, editing, and content creation needs.
One of the main tools on Smodin.io is the Rewriter. It takes your input and spits out grammatically sound and plagiarism-free content, which is essentially just a rewrite of the input.
Above that, the Author tool can generate content starting with a title. It then goes on to craft an outline and produces a polished essay or article.
Smodin.io also offers other tools, such as a Plagiarism Checker, Summarizer, and Multi-lingual translator. And that's not all, there are many more tools to discover on Smodin.io, each one tailored to deal with some facet of content creation.
How Does Smodin.io Work?
Well, now that we've established what Smodin.io is, it's time to delve into the nitty-gritty of how it functions. Since we're concerned with content creation, we'll be taking a look at the Rewriter and Author tools.
Rewriter
Using Rewriter is rather straightforward. Head over to the "Tools" tab on Smodin.io and select the Rewriter option. From there, you have the choice to either paste and copy the text you want to rewrite directly into the input box or upload a .docx, .doc, or .pdf file from your computer.
The free plan allows you to play around with 1000 characters. With the premium plan, you can raise that bar to 6000 words.
Also, from the options on the lower-right part of the screen, you can check the content for plagiarism or increase the rewriting strength.
Author
For using the Author, the procedure is a little bit involved. To start, you'll be prompted to enter a title.
Once you've entered the title, it'll generate suggestions for other titles allowing you to choose the one you deem the best.
Then, it will generate an outline for the points it will base the articles on. Again, it'll allow you to incorporate your insight into the outline by editing it.
Finally, on tapping the "Write" button, voila, you've your article. Keep in mind, however, that with the free plan, you'll only have access to a portion of it.
My Smodin.io Experience
Alright, enough with the nitty-gritty. So, how does it all stack up? And what are my musings on it? Allow me to expound on that with a few examples. Let's take a closer look at both the Rewriter and the Author one by one.
Rewriter
To check its abilities to the fullest, I tested the Rewriter with several different texts. Take this one, for example, which is copied from 10 Franchise SEO Strategies of 2023 (Ultimate Guide) – Neil Patel.
You can notice that the grammar of the reworked text is fine. Mostly, it has tweaked the sentence structure a bit and changed some words with their synonyms. The admirable thing is that it doesn't deviate from the meaning of the text from the original text.
On the whole, I'd say that it's as good as – maybe a tad bit better than – the more traditional rewriting tools.
Author
To gauge the capability of the Author tool in Smodin.io's toolbox, I tested it with several different inputs to check its proficiency. As an illustration, I asked it to write an essay on the relevance of backlinking in SEO in 2023:
I was a bit underwhelmed by the title suggestions it provided. Although there were a few basic options that could work, most of them just weren't quite what I had in mind. However, despite this shortcoming, I still found that the tool had the potential to generate some useful results.
As for the outline generated by the Author tool: it is basic, it can give you a starting point for your writing, but don't expect it to be fully developed and tailored to your specific needs.
I have to say that the generated essay was quite primary, but it is still helpful. The grammar is correct and that's a plus. However, I found that the relevance of the content is just average. It doesn't really go into the details of the matter.
To put it in a nutshell, it doesn't give me something that I can turn into a coherent article with a little editing. I don't think it will give me results much better than traditional authoring tools.
Smodin.io Pros and Cons
Here's how Smodin.io fares in different areas.
Diversity of Tools
I'm impressed with the variety of AI tools that Smodin.io offers under a single roof. From text generation to plagiarism checking and more, it's a single toolbox for all your content needs.
Grammar
The content generated by both the Author and Rewriter tools is grammatically sound. I appreciate the attention to detail in this aspect, as it makes the content more professional and polished.
Pricing
Smodin.io offers affordable plans with a multitude of services. It's great to have access to so many tools at such a reasonable price point.
Rewriting
The Rewriter tool does a fine job of rewriting a text into plagiarism-free content. However, I'm disappointed that it doesn't always generate more unique and varied phrasing.
Relevance
The Author tool does not always generate relevant titles, and the outline generated by the Author tool is basic and not always spot-on.
Performance
The overall performance of Smodin.io is average and not much better than traditional tools.
Conclusion
As a whole, Smodin.io provides a lot of different content writing tools at an affordable price. It is worth considering for those needing a one-stop shop for their content writing needs, but it may not be the best option for those looking for the highest quality output. Like many AI writing tools, you'll need to refine the content before publishing.

Try Smodin for Free now.